Our Story
In the Spring of 2008, students at Yonsei Graduate School of International Studies (GSIS), a leader of international higher education in South Korea, published the first edition of NOVAsia. Initiated by graduate students and under the guidance of the former dean, Professor Lee Chung-min, NOVAsia was born from a desire to translate the work and expertise of GSIS students and professors into a public product.
Our content has covered every continent and spanned from unsettled historical issues to predicting the effects of AI and weapons systems into the future. While NOVAsia covers current crises and developments across the globe, our focus remains close to home in East Asia. 
After thirty-one issues, the print magazine went online in order to reach a wider audience and to encourage deeper and more diverse engagement and dialogue.
NOVAsia now aims to be a platform for student voices in the conversation on global affairs.
Meet the Team 
Editor-in-Chief 

Sara is a Masters student at Yonsei Graduate School of International Studies. She is originally from Canada and graduated from McMaster University for Communication Studies. Sara came to Korea to study due to her wish to study and learn about the world from various perspectives among other international students. She believes that to understand the world and work with those around her she needs to recognize her own biases. That applies to studying anything from historical aspects of a culture to reading lifestyle and fashion magazines.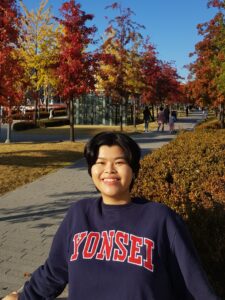 Editor-at-Large
Currently writing her thesis on adoptee identity and media representation as part of the Masters of Korean Studies program at Yonsei GSIS, Simone Liew brings with her from Melbourne, Australia a background in International Studies, interest in all things cultural industries related, and a passion for colorful clothing and food hunting. She hopes that her continued magazine work will contribute to her aspirations of a career in the globalizing Korean music industry. Though some days, she dreams of quitting it all to surf in Hawaii.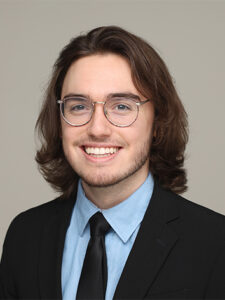 Senior Writer
Matthew F. Fleming is currently a Master of Global Affairs and Policy student at Yonsei University Graduate School of International Studies and a Master of Media and Governance student at Keio University Graduate School of Media and Governance. Before moving to Seoul, Korea, he lived on the East Coast of the United States, studying Communication Studies and International Studies at the University of North Carolina Wilmington. While studying Japanese and Global Communication at Aichi Shukutoku University in Nagoya, Japan, Matthew found his research interests based in the Asia-Pacific. Matthew hopes to contribute to the repair of the world by focusing on issues of international human rights, cultural history, promotion of personal narratives, and the relationship of collectivism vs. individualism in contemporary issues.
Junior Editor
Do Hwi Choi, is a graduate student pursuing Global Affairs & Policy at Yonsei University. An early exposure to many different cultural backgrounds triggered her interest in regional integration and enkindled an ambition to bridge the divide in relations pertaining to humanitarian rights, international law, and migrational studies. She is a believer in Nelson Mandela's words, "The greatest glory in living lies not in never falling, but in rising every time we fall."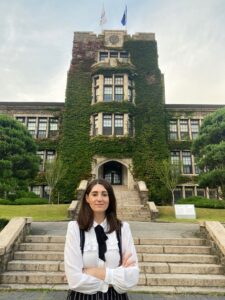 Junior Editor
Foteini is currently pursuing a MSc in "Global Economy and Strategy" at Yonsei University's GSIS, as a 2020 GKS recipient from Greece. Being a "global citizen", she has participated in various educational seminars, international conferences, and summer schools in Europe, Africa, and Asia. Foteini has previous professional experience in social entrepreneurship for inclusive and sustainable development in Greece and Europe, while she has completed her internships at the Ministry of Foreign Affairs in Greece and the Hellenic Parliament. Academically, she is interested in international cooperation and especially bilateral relations between Asia and Europe, focusing on social entrepreneurship and sustainable development issues.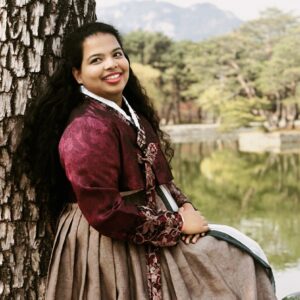 Editorial Intern
Shweta hails from Mumbai, India and is pursuing her Masters in International Trade Finance and Management at Yonsei GSIS. Her prior background in Psychology coupled with vast travel experiences and interest in languages, intrigue her to explore the dynamics of human interaction in diverse socio-economic canvas. Shweta has also worked as a professional Language Interpreter in Mandarin (Chinese) & Korean for both the Indian-Korean Government and for several Global Corporates. She enjoys immersing herself in art, music, theatre, feature films and gourmet cuisine among other interests.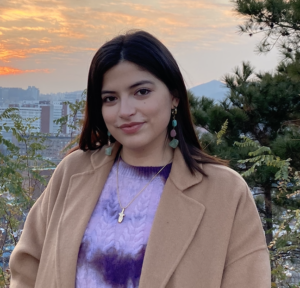 Media Producer
Ana Carolina Elizondo is now a student at Yonsei GSIS for International Cooperation with a concentration in development. Coming from the northern part of Mexico, Monterrey, Ana Carolina has been interested in the international affairs regarding Asian countries such as Korea, thus finding herself studying in Seoul. With an interest in pop culture, arts and media, she is eager to learn more in the cultural diplomacy that Mexico and Korea share.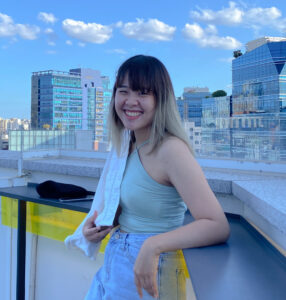 Kotchamon or Kanink, a Thai girl who is currently in second semester of International Cooperation major at Yonsei Graduate School of International Studies. Her experiences in language learning and exchange programs since high school have shaped her current interests in understanding cultures on a deeper level. She loves to engage with and share cultural thoughts and expressions with other people. Moreover, combined with her background in having joining numerous club activities based on MC, public relations, drama, video making and production, she believes that entertaining soft power can influence people perspectives in terms of cultural misunderstandings, and be able to bring peace in the global community.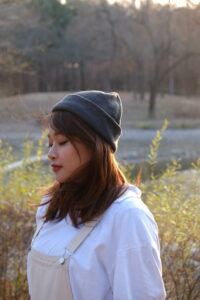 Media Intern
Thu was born in Hanoi – a sea of scooters and bustling market stalls capital. Recognizing the strong cultural resemblances between Vietnam and Korea as well as the rapid development of Korea's entertainment and arts industries, she decided to pursue a Masters in Korean Studies at Yonsei GSIS. After spending her wonderful college years immersed in Kpop Dance, she has hung up her shoes and has worked as a Production Assistant for a Media Company. She wishes to continue her passion for media in NOVAsia while also enjoying this adventure in Korea.
Disclaimer: NOVAsia is funded through scholarship grants from the Graduate School of International Studies (GSIS) at Yonsei University. Beyond financial support, GSIS does not have any editorial influence over the content of this website. Unless explicitly stated otherwise, any opinions expressed on this website belong solely to the authors and do not represent the official position of GSIS, Yonsei University, or its affiliated institutions.