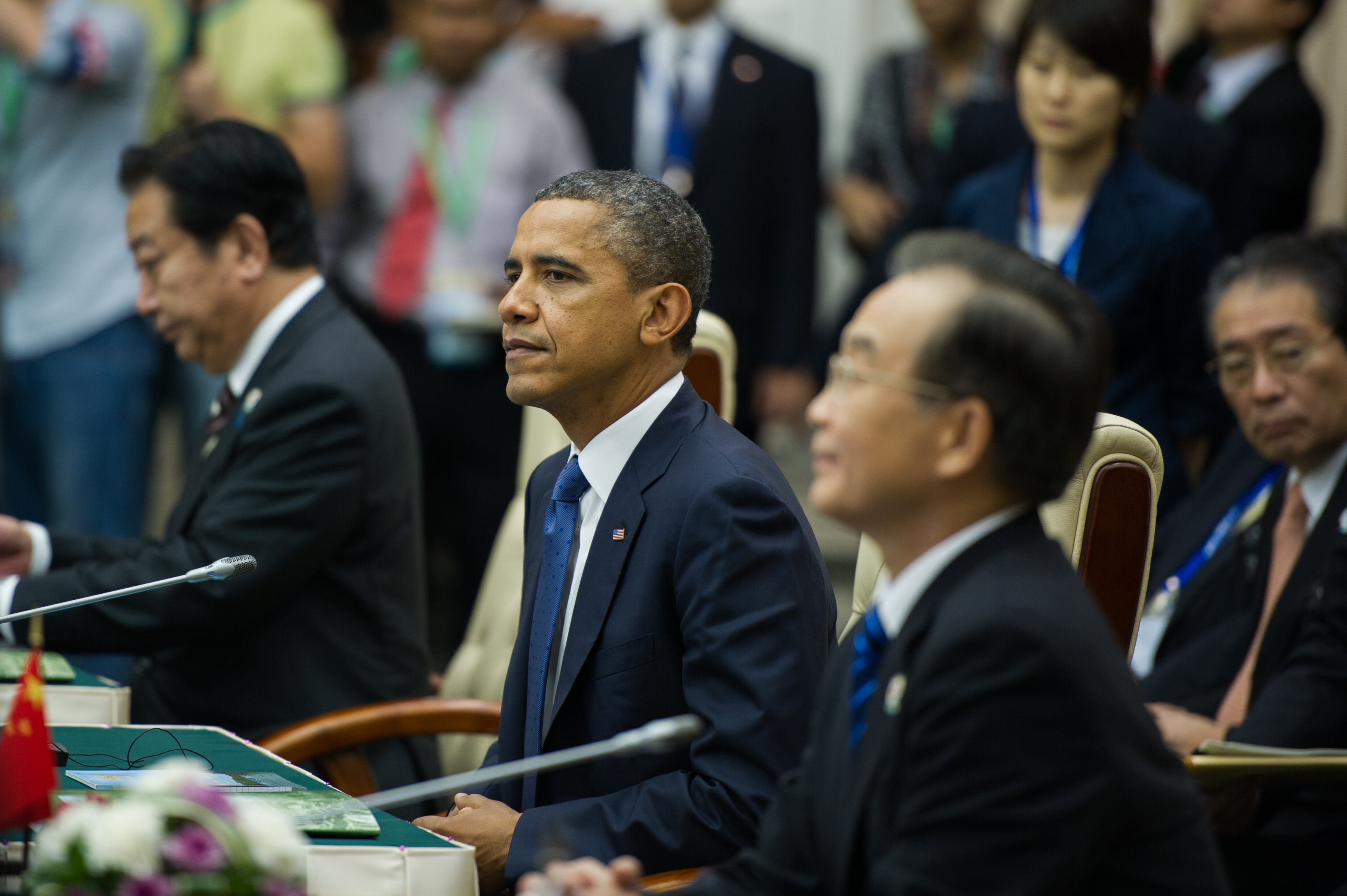 At the outset of President Obama's first term, a range of new diplomatic initiatives were unveiled, ones meant to establish a distinct break from President Bush's foreign policy. Perhaps most highly publicized was his "Pivot to Asia" which staked out America's interests and values in a region home to a majority of the world's population and economic opportunities.
For Obama, it was a forward thinking strategy; American interests are best served by establishing strong economic and security partnerships with Asia's rising powers, most specifically China. Forging a strong relationship with China would not only be beneficial to US businesses, but also perhaps lead to substantive progress on security issues such as the North Korean nuclear crisis. In addition to extending an "olive branch" to China, the US would also invest heavily in building trade partnerships with other emerging economic engines, especially within Southeast Asia.
In sum, these efforts were viewed as a means of securing America's long-term influence in the region. Although the move was widely praised by scholars and officials at the time, the "Pivot to Asia" quickly became subsumed by instability in the Middle East and Russian aggression in Eastern Europe and beyond. The Obama administration quickly found itself facing persistent headwinds that have made his Asian policy agenda practically illusory, leaving big visions and even minor goals unfulfilled.
As we approach the end of Obama's second term in office, a progress report on the "Pivot to Asia" is undoubtedly in order.
One of the biggest disappointments of the "Pivot" has been the backsliding of US-China relations. Since President Xi Jinping took office in 2012, the Obama administration has struggled to forge a strong partnership with the leader. Instead of strengthening trade ties, American companies such as Apple and Google have been met with increasing restrictions within China. Detainment of political dissidents and human rights activists has increased under President Xi Jinping's watch. More disturbingly, tensions between the US and China in the South China Sea have escalated drastically during Obama's second term.
This pessimistic turn of events makes it less likely that any new efforts to pressure the North Korean regime will be unsuccessful. Controlling North Korea's northern land border, China holds the "purse strings" of its isolated, internationally reviled neighbor. Despite pressure, China however has proved remarkably resilient in its protection of the rogue state. While not a fan of the Kim regime, its greater fear is that of a united Korean state beholden to US interests on its border. Unfortunately, the Obama administration has been unable to assuage Beijing's concerns by demonstrating China's potential benefit from a united Korea.
Solidifying trade relations with Asia's rising powers has also been a largely unfulfilled promise of the "Pivot to Asia". President Obama's signature Trans Pacific Partnership (TPP) is an example of the lack of results. Former Secretary of State Hillary Clinton unveiled it as the "gold standard" of trade agreements. The TPP promised to lower trade barriers and open markets, which would dramatically boost the economic prospects of its 12 Pacific Rim signatories. Despite initial good will, the agreement quickly encountered domestic opposition among Republicans and Democrats who were suspicious of the large trade package or certain commercially predatory clauses. In many ways, the TPP was the cornerstone of Obama's Asian pivot, with it languishing in political limbo, potential trading partners in the region have been left to dwell in a cloud of uncertainty.
Despite its challenges, the pivot cannot be written off as a total loss. The rise of China has concerned many Southeast Asian countries leaving an opening that the Obama administration has tried to exploit. The best case of this is perhaps in Vietnam, which has undergone a dramatic economic transformation in the past two decades. During his visit to Vietnam over the summer, Obama vowed greater defense cooperation, an eagerness to strengthen trade ties and the opening of a US Fulbright university as one of many youth development programs. It also marked the resumption of arms sales to the country. The Obama administration has similarly strengthened ties with Myanmar and US support for democratic reforms. He also became the first sitting US president to visit Laos where he announced a $90 million aid package to clean up unexploded ordinances. Although, largely symbolic, these visits have provided a much needed demonstration of US interest in the region's future.
Undoubtedly, the "Pivot to Asia" has been lackluster. However, this was perhaps unavoidable with the explosion of geopolitical events early on in Obama's second term. Freeing America from the quicksand of Middle Eastern conflict and stomping out the embers of Russian aggression have proved daunting tasks. Nevertheless, such a "Pivot to Asia" has, at the very least, laid the foundation for the next administration that takes office. Important groundwork still needs to be completed to ensure that these relationships firmly take root. The next US President should certainly continue strengthening US ties to Southeast Asia and, at the same time, offer China a more convincing vision of mutual prosperity and cooperation. The next administration will also need to firmly demonstrate its commitment to passage of the TPP. For example, Vietnam's National Assembly just rejected holding a TPP vote in this session of congress due to growing concerns. The present uncertainty surrounding the TPP sends conflicting signals to US partners and does little to inspire confidence in US investment in the region's long-term prospects.
Latest posts by Courtland Matthews
(see all)