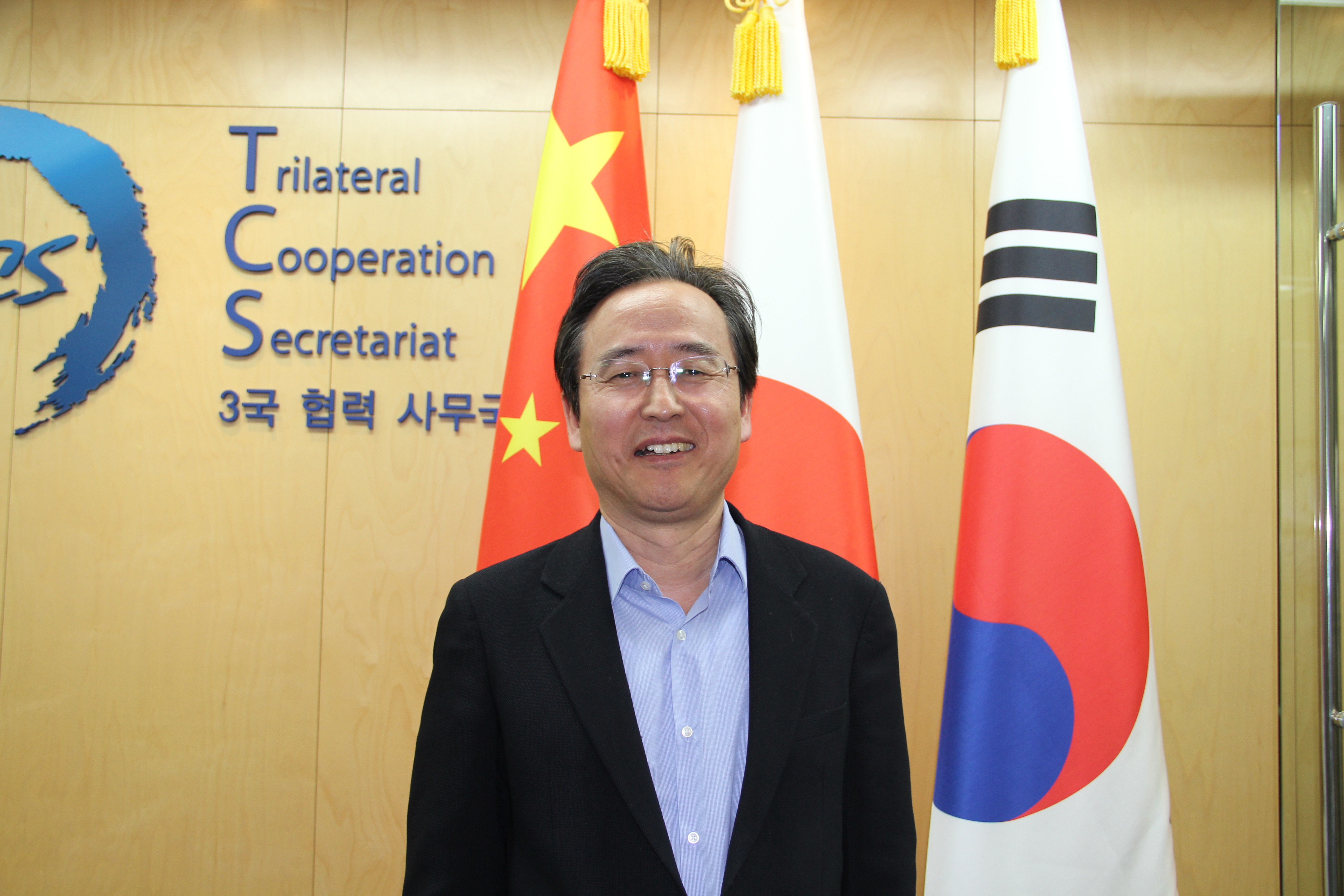 Before coming to Yonsei GSIS, Dr. Shin Bongkil enjoyed a distinguished career as a diplomat. He served as Minister at the Korean Embassy in Beijing and as Ambassador to Jordan. In 2011 he became the inaugural Secretary-General of the Trilateral Cooperation Secretariat (TCS). He was also President of the Institute of Foreign Affairs and National Security at the Korea National Diplomatic Academy. Dr. Shin holds a PhD from the University of North Korean Studies. This spring semester, Dr. Shin has been teaching the course, "Contemporary Chinese International Relations" at Yonsei GSIS.
How has the transition from diplomacy to academia been?
I have always had a lot of intellectual curiosity; this is something you actually need when you are working in a hardship post like Myanmar. In every place I have been, I always kept my curiosity alive. As the Secretary General of the TCS, I often attended international seminars or fora, so I have been mingling in academic circles and I am accustomed to the academic environment. I did not come from the diplomatic world into this second life without any preparation, but that does not mean everything went smoothly.
At the Ministry of Foreign Affairs (MOFA) I served as a senior official for quite a long time, so during the last decade I enjoyed the help of staff like a secretary or speech writers. Now I am getting used to doing everything by myself, from PowerPoint skills to curriculum design. On the upside, exchanging ideas with actively participating students is not that hard and quite enjoyable. I like the location of Yonsei, my fellow professors are well learned and the student body at GSIS is very diverse.
Are there notable differences between diplomatic practices in Korea, China, and Jordan?
Of course each country has its own unique culture, but what is more important for a diplomat are countries' relative power. When I went to China in the 1990s it was not that hard to meet with people, but the second time I was posted there, in the latter part of the 2000s, China had become so much more powerful and it was harder to gain access to Chinese officials. From my colleagues who are posted in Beijing at the moment, I hear it is very difficult now. When you serve in a developing country it is easier to enjoy life as a Korean diplomat, doors open up more easily.
Since interstate relations depend on the interactions of diplomats, what do you think international relations students should know about diplomacy?
Theory and actual diplomacy are very different, that is why I try to share my experiences when I lecture.
Realism prevails in world politics, yes, but I think a diplomat should not work for a country's own shallow interests. I believe we should always be working for the benefit of everyone. The scholar Mearsheimer claims that countries always want to dominate others. But is this always true? China for example is growing a lot and it is having disagreement with South Korea over North Korea and Terminal High Altitude Area Defense. However, interdependence between Korea and China has also grown, so we should work together. We cannot rely on only one theory.
You served as the former Secretary-General of the TCS. What are some aspects of China-Korea-Japan relations that only an insider knows?
Everybody knows that the three countries have had their differences, but they also need each other very much. We also cannot ignore the United States. For the US, closer ties between the three countries are a double-edged sword. If they get along too well, the US might feel detached or excluded, but their quarrels are also a burden to the US. Since the establishment of the TCS, the US has tried to incorporate China into the international regime. The US thinks it is important to contain China through international arrangements.
China might not show outward enthusiasm about cooperating with Japan because of past grievances, but China is always the one who pushes the most to increase the budget of the Secretariat so that China, Japan, and Korea can increase their cooperation and Asia becomes a region for Asians. Japan is the least enthusiastic about this development because it does not want to upset the relationship it has with its ally, the US, who fears Japan is getting too close to China.
How has diplomacy changed during your career?
When I started my career as a diplomat, South Korea was still developing and I did not enjoy the standard of living that young diplomats enjoy today. We did not get a high salary back then and the status of South Korea was still rather low, but it has risen a lot now. So I have noticed that it is easier to get access to places. Even a very well prepared and fluent diplomat cannot succeed if the country one represents is not strong.
What is your stance on secrecy and diplomacy? Do you think citizens in democracies should have an active balancing role in diplomatic decisions, or should diplomacy remain in the purview of the government?
Diplomacy is no longer the sole domain of governments. For a government to be successful, it needs the support of the people. Diplomacy is the job of professional diplomats, but statements carry more weight in negotiations when diplomats have strong popular support. In the case of the comfort women issue, for example, it is not something that should be decided by officials alone. It affects normal citizens who have a strong stake in the matter.
Public diplomacy has been a leitmotiv of the Korean MOFA in recent years, however it is often hard to estimate how effective it is. In Korea's case, do you think public diplomacy is an asset or just a waste of resources?
Nowadays public diplomacy is more important, the Korean MOFA recently created a new position, the ambassador of public diplomacy. The role of this new official is to make speeches to get support from ordinary citizens. Soft power is very powerful; think of the influential hallyu (Korean wave) in Asia, parts of Europe and even the United States. For example when Hu Jintao came to the Blue House, the celebrity Lee Young-ae also attended because Hu is a fan. So it is something we cannot ignore.
Hallyu stars have also helped change the Japanese impression of Korea. In diplomacy, a country's image is extremely important so this kind of influence is not negligible. It is important that other states see us as having a good image.
Would you like to share any advice for young academics studying diplomacy or aspiring diplomats?
First of all, command of foreign languages is key. Secondly, it is important to have a genuinely open mind; it is not enough to be smart. You really need to be open to different people and their cultures. Thirdly, intellectual curiosity is essential. Students should be inquisitive about any matter in the world of international relations. When you are open minded and intellectually curious, being posted abroad can be very enjoyable. I hope all students at GSIS learn a lot about East Asia while they are here!
By Laurens Bistervels
Latest posts by NOVAsia Magazine
(see all)