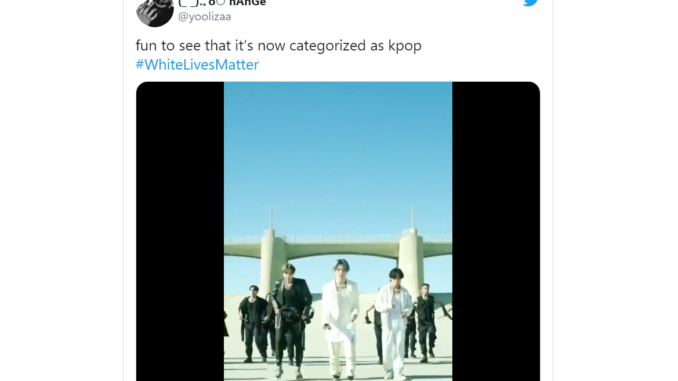 BTS's chart dominance and various K-pop groups' increasing visits to American talk shows have raised K-pop's visibility in US media. Even so, many still see the genre as frivolous, sugary, and inconsequential. For this reason audiences weren't prepared for this past June when K-pop fans emerged as a powerful political force in support of Black Lives Matter. After white police officers arrested and detained George Floyd, a black civilian, in a manner that resulted in his death, the long-simmering public outrage against police brutality boiled over. Citizens across the country raised their voices in protest, and to the surprise of many, K-pop entered the conversation. Targeting angry protestors, the Dallas Police Department asked civilians to upload proof of demonstrators' illegal activities through the app, iWatch. Instead, fans sent in K-pop performances. The flood of videos overran the app, overpowering iWatch's other content and so protecting protestors' identities.
Fans also drowned out the Twitter hashtags #whitelivesmatter, #whiteoutwednesday, and #alllivesmatter using the same tactic. Users who searched such hashtags could find little outside BTS memes, BLACKPINK GIFS, or Stray Kids performances. Eventually even Twitter got confused, and for a time categorized #whitelivesmatter under "kpop."
To those unfamiliar with Korean music and it's powerful fanbase, the colorful performers' presence in American politics must have looked completely bizarre. Yet, to those with stronger backgrounds in the genre, a K-pop-filled uprising against American racial prejudice seemed the most natural thing in the world. It may be hard to believe a genre that begets songs with lyrics like "ring ding dong, ring ding dong" (from the famous SHINee song, Ring Ding Dong) has any link to social activism. However, journalists pointed out Koreans have used music to express societal displeasure for decades. Some artists wrote songs to voice criticism of past military governments, while others perform pop music at various rallies and demonstrations. For example, students have sung Girls' Generation's Into the New World during protests against university decisions, or in opposition of former president Park Guen Hye, while Seo Taiji and Boys (without whom K-pop would hardly exist as it does today) wrote songs against Korean school life and government censorship.
But what relation does K-pop have with this particular social issue? Is advocacy for Black Lives Matter fueled by the singers' personal political orientations — by K-pop songs' lyrics — by Korean music's historic connection to politics?
Though it's worth considering whether K-pop inspired June's takeover, arguing a linear connection proves difficult. This is primarily because most K-pop groups have to maintain a non confrontational image — if they say anything to upset fans artists' very survival comes into question. Audiences expect celebrities, or "idols," to exhibit the best of society, a position that includes worship-worthy bodies, engaging personalities, enviable lifestyles, wholesome friendships, and even perfect date-ability. Followers criticize and even abandon idols who fail to live up to these standards (such as EXO fans who insisted Chen leave the group because he's married). Likewise, music labels whose own reputations coincide with their idols' quickly sever ties with artists fallen from grace. (Remember Hyuna and Dawn? BI from IKON?) Companies spend years and thousands of dollars to teach individuals the parameters of the idol persona, and both artist and label face pressure to maintain that persona and the fanbase built around it. Such an environment proves unfavorable to divisive political stances.
However, some argue K-pop should no longer hide behind political neutrality since so much of its music draws on the sounds and symbols of other cultures, especially African American culture. K-pop's taken many cues from hip hop and R&B, which both originated in African American and other minority communities, to the extent every pop group includes at least one rapper and "K-hip hop" has gained enough popularity to join the ranks of the government-endorsed "K" brand (K-pop, K-food, K-beauty, K-fashion…). Observers argue this link should encourage interest in and support of African American issues, and in fact various K-hip hop musicians embrace their music's origins and have expressed solidarity with the US protests. The members of H1GHR Music, who as a label donated to Black Lives Matter and delayed their album release in observance of #BlackoutTuesday, serve as one such example. Yet despite this show of solidarity from some, most K-pop artists adopt cultural symbols only for aesthetic purposes, and do not automatically feel their appropriation necessitates understanding the history or contemporary struggles of the groups from whom those symbols originated.
To encourage greater cultural sensitivity from the K-pop world, fans have appointed themselves "political correctness" enforcers. For example, viewers criticized a Mamamoo performance where the members wore blackface in homage to Bruno Mars and Mark Ronson's Uptown Funk; various artists who use Native American symbols have been met with accusations of cultural appropriation; and BLACKPINK had to edit their most recent music video, How You Like That, to remove a Hindu deity they used as a prop. 
While such fan intervention leads to apologies and promises for greater cultural sensitivity in the future, not all fandom members hold the same political views, and therefore do not argue for the same accountability. When Twice's Taiwanese-born member, Tzuyu, waved her home country's flag the intensely negative reaction from Chinese viewers led to her formal apology. On the other hand, Taiwanese citizens likened her remorseful video to that of a hostage of the Islamic State. In another case some male fans angrily burned Red Velvet Irene's photos because she mentioned she read the feminist novel Kim Ji-young, Born 1982, while others crowned her as the "feminist queen." These instances prove fans equate even small acts with political statements. While some artists find enough support to stand their ground, such as in Irene's case, to keep their popularity most idols must listen to and address such fan complaints. Consequently as long as listeners hold varying political opinions, the actions and positions K-pop viewers hope idols will adopt may never materialize. 
As a highly participative genre K-pop groups have little room to voice political opinions. Perhaps if more listeners come together to demand the industry's involvement in social issues, K-pop artists will rise to the occasion, but even if they don't June's mobilization proved fans don't need explicit endorsement from their "faves" to spring into action. They only require a common goal and the extensive connections provided through membership in the K-pop community to help achieve that goal.
Instead of following cues from K-pop, fans have proven themselves a powerful independent force that both uses the genre's global popularity to fight against oppression, and uses the fandom's own influence to encourage a more politically involved K-pop industry.
Latest posts by Leslie Hickman
(see all)