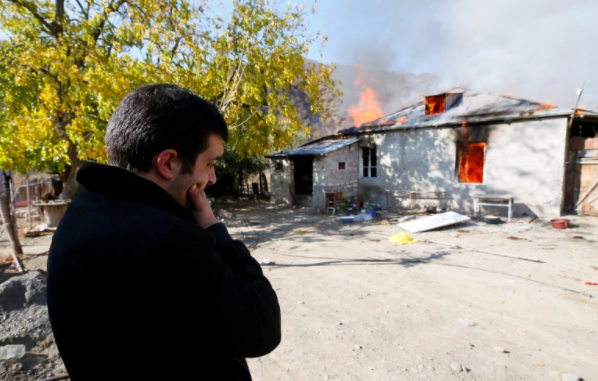 On 10th November 2020, deep in the Caucasus Mountains that lie between Asia and Europe, the guns fell silent. Six weeks of bloody conflict between Christian majority Armenia and Muslim majority Azerbaijan have come to an end. While most of the world recognises this region, Nagorno-Karabakh, as part of Azerbaijan, it lies under ethnic Armenian control. Azerbaijan's invasion attempted to change this. Just as victory seemed likely for Azerbaijan's forces, both sides signed a Russian-brokered peace deal. A defeat for Russia's ally, Armenia, would have made Moscow look weak. Now, Putin can play the peacemaker. The guns may be silent over Nagorno-Karabakh, but the conflict is far from over.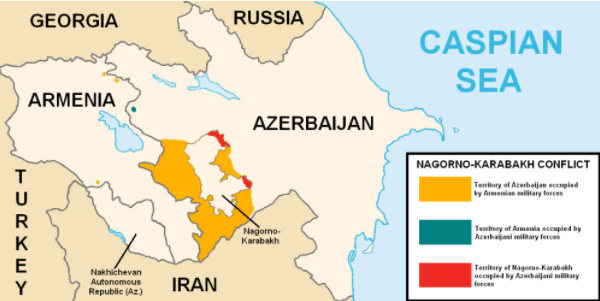 Armenia, a country that suffered a genocide at Turkish hands between 1914-23, is rightfully sensitive and fearful for what remains of Armenian culture and heritage in the three districts of Nagorno-Karabakh due to be returned to Azerbaijan.
Armenia has seen what happens before, when the previously disputed region of Nakhichevan (see map above) came under Azerbaijani control. Thousands of Armenian monuments were erased from history, including the UNESCO world heritage site, Djulfa cemetery. It was the largest collection of medieval Armenian graves in the world. For this article I interviewed Dr. Dorfmann-Lazarev of SOAS University of London, and the University of  Aix-en-Provence. He called these actions at Djulfa a 'cultural genocide.'
In 1988, war exploded between ethnic Armenians and Azerbaijanis in Nagorno-Karabakh. When the dust settled, some 20,000 were dead and the Armenian Republic of Artsakh (Nagorno-Karabakh) was declared. The war was over by 1994, but Azerbaijan never forgot its humiliating defeat.
While most of the world recognises Nagorno-Karabakh as part of Azerbaijan, ethnic Armenians have also lived there for centuries. Dr. Dorfmann-Lazarev explains the region is, "Full of thousands of distinct (Armenian) monuments, mostly medieval…that map the Armenian presence in the region."
After losing the war in 1994, Azerbaijan licked its wounds and bided its time. The country grew wealthy from oil money and, with support from their ally Turkey (most of Azerbaijan is made up of Turkic peoples), was able to purchase advanced drone weaponry and artillery pieces. On 27th September 2020, Azerbaijan launched the invasion. Six weeks after the first shots rang out, Armenia capitulated. 
The peace deal is a compromise for both sides. Armenian forces have been forced to pull out from most of the land that they took during the 1990s but have kept Nagorno-Karabakh itself. The districts that they are returning are called Agdam, Kalbajar, and Lachin (see 1, 2 and 7 on the map below).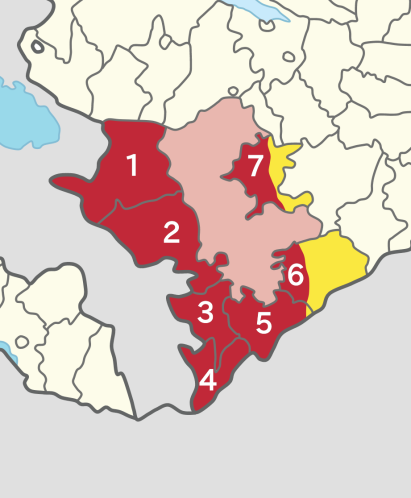 Under the terms of the peace treaty, Russian soldiers will safeguard these regions for the next five years. But five years is a short time in the Caucasus Mountains. Armenia is unlikely to forget its own humiliation.
On November 25th 2020, one of the districts of Nagorno-Karabakh, Kalbajar, was returned to Azerbaijan. In it lies the centuries old Armenian Monastery of Dadivank. For now, it is guarded by Russian peacekeepers. But in five years' time, they may be gone, and many Armenians might be wondering if this site will face the same fate as the graves at Djulfa.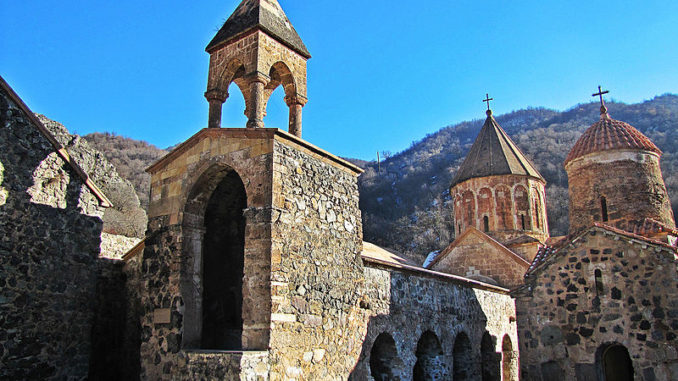 So, where does Armenia go from here?
Nikol Pashinyan, the Prime Minister of Armenia first needs to hold on to power. In 2018, protests paralysed Armenia with Pashinyan as the figurehead. The Velvet Revolution, as it became known, led to free and fair elections that he comfortably won.
Now the same crowds are protesting against him. "His position is highly compromised now," says Dr. Dorfmann Lazarev. "He tried to progress in making Armenia more transparent and less corrupt…but now people doubt what really happened." The ceasefire treaty is seen as a betrayal of Armenia by many who once supported him. They fear that by handing regions of Nagorno-Karabakh back to Azerbaijan, all history of Armenian presence in the region will be erased.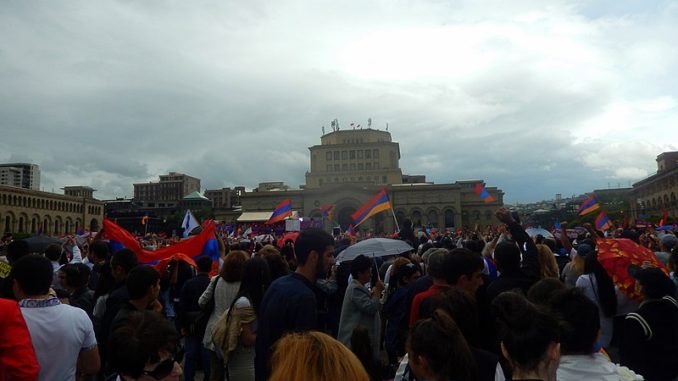 Hours after the deal was announced, protestors stormed the National Assembly. Pashinyan's Defence and Foreign Ministers have resigned.  Even the President of Armenia is calling for him to go.
Armenia is a poor country, unlike Turkey and Azerbaijan. But one card it has always held is a wealthy and patriotic diaspora, particularly in the United States. During this conflict alone, over 120 million dollars have flowed in from abroad, these donations encouraged by celebrity figures such as Kim Kardashian, and the footballer Henrikh Mkhitaryan. 
But these contributions pale in comparison to the military and economic clout of Azerbaijan. Pashinyan will have to look elsewhere for allies if Armenia wants to keep hold of Nagorno-Karabakh and preserve its cultural presence in the region.
Moscow has long been interested in maintaining its influence over former Soviet Republics, such as Armenia and Azerbaijan. And in the end, only Russia was able to put an end to the fighting. As the Azerbaijani forces advanced deep into Nagorno-Karabakh, a Russian military helicopter was mistakenly shot down by Azerbaijan. That was at 18:30 on November 9th. Hours later, the cease-fire deal had been finalised. At midnight, the guns fell silent.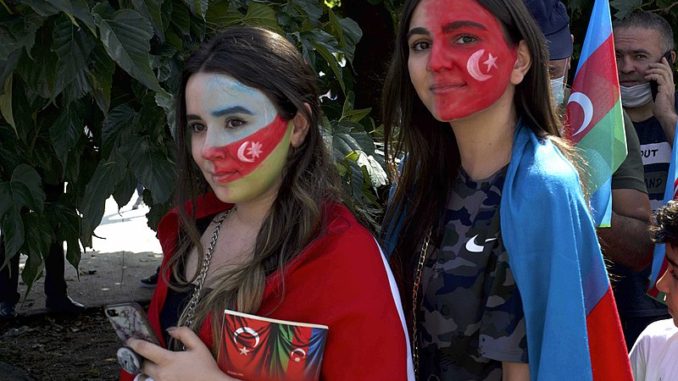 Now two thousands Russian soldiers are on peacekeeping duty in Azerbaijani territory; a clear rebuff to Turkey, which is Azerbaijan's main ally and Russian's regional rival. Russia already has a military base in Armenia and a treaty to defend Armenia. However, Moscow considers Nagorno-Karabakh a part of Azerbaijan. Even so, Armenia will likely seek to align closer to Putin's regime, biding their time and preparing for whatever might happen five years from now. 
As the sun sets in the mountains of the Caucasus, flames and smoke light up the sky. There will be no integration in these districts which have been returned to Azerbaijan,  no living side by side in peace. The enmity between both sides runs too deep. The last Armenian refugees packed what they could and fled. Many have chosen to set their homes alight,  a welcoming gift for the new Azerbaijani residents. Perhaps they'll be praying Azerbaijan won't do the same to Dadivank Monastery. Perhaps they'll be hoping that their landmark of Armenian history and culture will still be standing five years from now.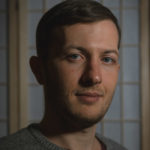 Daniel Engel did his Masters in dead languages but these days his interests are more modern. In order to escape Welsh weather, he told his parents he was going to live in South Korea for a year. That was a decade ago. When he's not writing an article or reading a book, he's trying to untangle the mysteries of Korean grammar.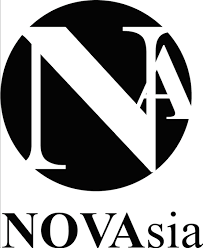 Latest posts by NOVAsia Contributor
(see all)