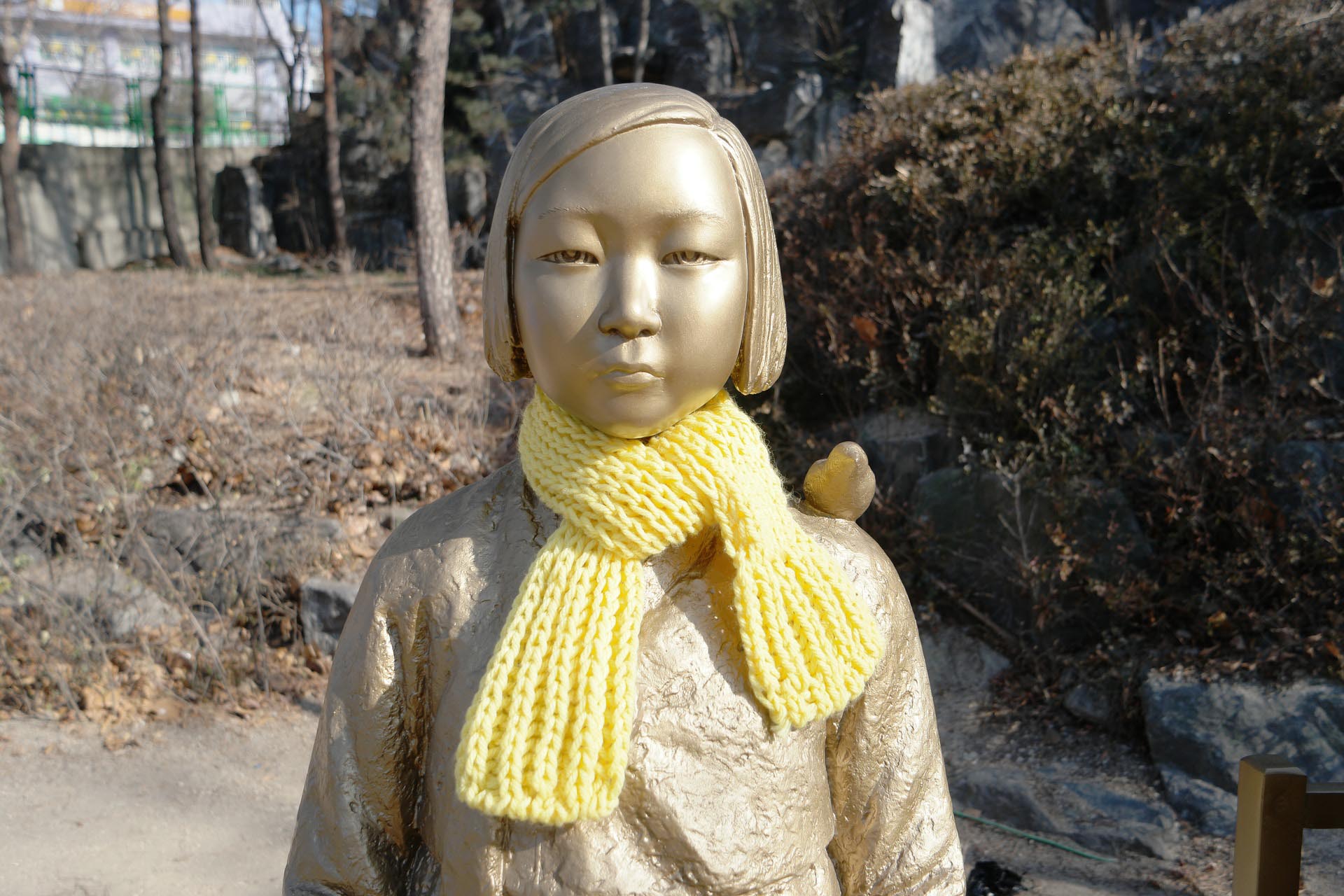 There is nothing comfortable about rape. It is not easy to talk about it, read about it, or remember.  Perhaps that is why many still refer to hundreds of thousands of women brutalized under Japanese occupation in World War II as "comfort women" – a label much more comfortable to say than sex slaves.
The resolve of victims conveyed through art has provided us with a type of testimony that is not as easy to glaze over or misconstrue… the famous statue of a seated girl in Seoul, just across from the Japanese embassy.
Korean and international media have described this bronze statue of a Korean girl dressed in hanbok as: "A statue that represents the sexual victims by the Japanese military." But it is so much more than just a mere representation.
The basic function of most statues is to stand for a past event, the legacy of a person, or a set of ideals.  While it is therefore imperative to look at the girl statue and see a form of history, it is more realistically a piece that pushes against our standard understanding of monuments. Seldom mentioned in media is the official name of the sculpture—"Girl of Peace Statue." The name signifies a purpose; it conjures narratives and calls for a resolution.
Since its unveiling in 2011, dozens of the sculpture have been placed across Korea – near parks, museums, shopping malls and even the Japanese consulates and embassy. Consequently, the statue has inspired a sense of civic participation in Koreans, as well as international news coverage and a fair share of political strife. The Girl of Peace has transcended its existence as just a statue to the level of national phenomenon. It has incited discourse, condemned those who are apathetic towards wartime sexual violence, and affected the political relationship between Korea and Japan.
To better understand the story behind the statue and its place in a greater discourse and context, a certain interpretation of composition is required.
It is well accepted that art does not yield just one meaning, one right way of understanding. Even so, interviews with observers and sculptors, Kim Seo-kyung and Kim Eun-sung, reveal that there are some common perceptions of the statue. A critical component of the statue is youth, highlighting how women and young girls alike were victims. The cropped hair is reflective of the pain of having been cut away from one's family and home. Beside her, an empty chair presides – both a connection to victims who have passed as well as an invitation for bystanders to sit and reflect with empathy. The bird on her shoulder alludes both to freedom and to an unrestricted connection between victims and others.  Her facial expression is one of a fearless anger for injustices done. Her clenched fists signal the adamancy of women to make their stories known. Clearly, the symbols merge into a fixture of resistance. This retaliatory tone has been carried over into the social and political realms–some inspiring, but others frustrating.
The statue has brought about public responses that reveal something beyond just momentary reflection, and rather a long-term, mature understanding of the comfort women issue.
Domestic and international news correspondents have touched on this understanding, using the statue as an important motif and publishing articles on the piece for the past several years. The abundance of coverage is a mark of widespread engagement with the statue; articles connect Korean citizens and foreigners alike to on-going dialogues and controversies perpetuated by the statue, even if many readers never encounter it face to face. Most articles speak to the work as a representation of history and a memorial to victims, albeit a rupture in inter-governmental harmony.  Though informative, this rather static depiction falls short of fully portraying a monument that has incited dynamic emotions and responses.    
Such spirited reactions involve the production of related art.
For example, the front page of the August 2016 edition of The Big Issue Korea magazine is a rendition of the Girl of Peace by artist Kwon Sun-yi.  The cover depicts the statue as larger than life with an elderly Korean woman and young girl resting on its shoulders. Elsewhere behind the scenes, Korean high school and university students co-designed sketches for standing versions of the sculpture.
Other public reactions have involved an almost ritualistic wrapping of clothes, setting of flowers, and posturing of flags around the monument. For many in Korea, the statue metaphorically stands in place of bodies and lives that were stripped of their dignity. Adding garments to it is an effort to finally clothe a body that was injured and to fold awareness around the ones who were ostracized the most. The few remaining women, for whom the statue was made, have also interacted with it directly by standing, sitting, speaking and protesting beside it.
Each instance of public reaction and participation is evidence of the fact that collective introspection is ongoing and that the right to claim memory is continuously asserted. People care deeply about pushing forward conversations about the hardships of victims and critiquing the political outcomes instigated by the girl statue.
As expected, not all reactions to the statue have been positive; ties between Korea and Japan have certainly been injured.  The two countries' settlements on sexual slavery history have always been contentious. Tensions over historic details and who to hold responsible largely began with a 1991 lawsuit against the Japanese government filed by former victims.  After decades of friction, the statue has arguably become one of the centerpieces of the dispute.
The Japanese government has voiced its view: placing such a statue outside the Japanese embassy in Seoul and consulate in Busan is unacceptable. They have called for the sculpture's removal from both locations, and temporarily suspended certain diplomatic ties with Korea over its placement.
Seoul has voiced its intention to meet that request, noting the need for "courtesy" between the nations, but has wavered in its commitment to finally remove the piece. Japan has responded by arguing that current inaction from Seoul in removing the statues outside Japanese facilities dishonors a 2015 agreement made between the two governments, one that was supposed to somehow "irreversibly" resolve the issue of sexual slavery. Some politicians and academics have even challenged the narrative of sexual slavery, claiming that women were not always subjected to coercion or force.  Activists in Korea do not accept these historical disputes and argue that the current agreement is insufficient. Participatory events surrounding the statue have thus included demonstrations to guard its presence in contested locations.
Japan will go on using legal agreements as political leverage. Korea may continue giving and then revoking promises about the statues as its own form of leverage. The unfortunate irony is that governments have the power to do such exchanges; a privilege to mitigate the past through negotiations; to decide when it is appropriate to bury undesirable realities.
For the women who lived these undesirable realities, there is no such privilege or power. Their daily reality is mired in the memory of what transpired–irreversibly. The statue, therefore, should not be seen by onlookers as merely a catalyst for strife between Korea and Japan. Rather, it is best understood as one of the few truly public acknowledgements offered to the women for whom peace has always been elusive.    
By Tashia Shupert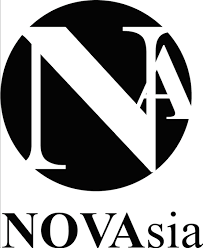 Latest posts by NOVAsia Contributor
(see all)