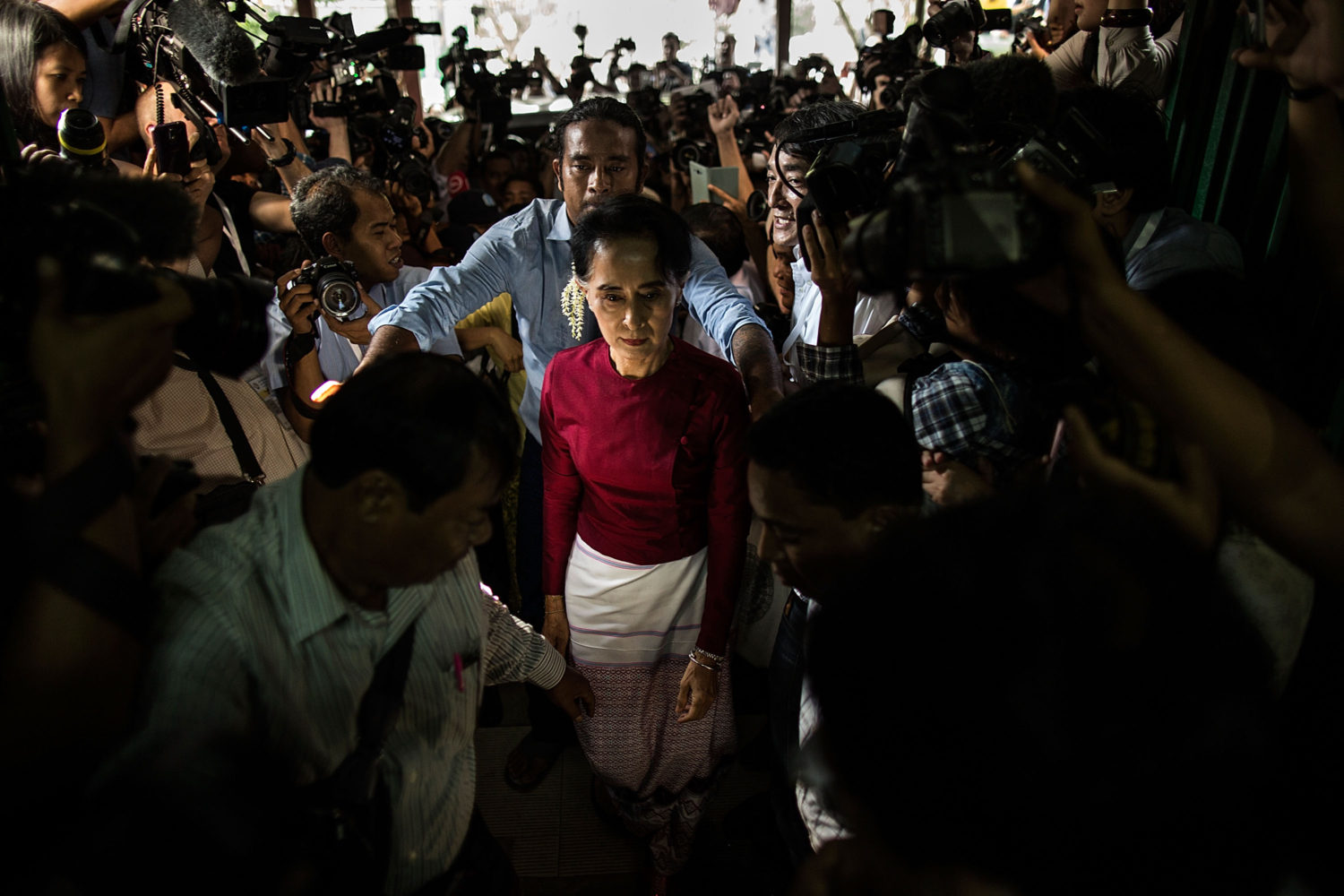 In 2015, Myanmar became the front-page story in international media with the triumph of the National League of Democracy (NLD) in the first general elections held since 1990. It marked a watershed moment for Myanmar's hard-fought democratization process, in which its leader, Aung Sang Suu Kyi, ascended to power after years under house arrest as a democracy icon. Two years after the elections, and Myanmar is once again a front-page story, but this time for the human rights atrocities of the Rohingya refugee crisis. Myanmar's de facto leader and symbol of progressive democracy, Suu Kyi, has been stripped of this liberalist mantle and is widely blamed for the crisis.
Over the past few years, violence between Myanmar's government and its Rohingya Muslim community in Rakhine State has escalated into what some accounts have called ethnic cleansing, or at least very aggressive persecution. Over the past year, conflicting accounts have emerged after state security forces searched Rakhine State for alleged Rohingya terrorists supposedly killed nine police officers. Reports cite numerous killings and human rights violations against Rohingya Muslims during the government "terrorist" crackdown. While it may be hard to parse out the truth from these accounts, today the world has witnessed the undeniable reality that hundreds of thousands of Rohingya Muslims are fleeing to Bangladesh in search of refuge from persecution in their country. Suu Kyi has stood by largely in silence, and has been internationally decried for her refusal to act to protect this vulnerable population.
But attempting to understand of Suu Kyi's silence would be remiss without examining the two most powerful political forces in Myanmar: Buddhist nationalists and the military. While Suu Kyi deserves some criticism for her response, or the lack thereof, her silence is undoubtedly influenced by the political dynamics of these two forces.
Buddhist Nationalism
For decades, living under the reign of a brutal junta did not permit living a "normal" life for the average Burmese. For ethnic minorities, it was even worse. While not the only minority subjugated by the military regime, Rohingya Muslims have been the most vulnerable and exploited group. Since the military took power in 1962, hundreds of thousands of Rohingya have fled the country to avoid unpaid forced labor – slavery. They were also denied citizenship by the Burmese government in 1982 when the junta implemented a new citizenship law. This means they were without legal protection and unable to enjoy the rights of citizens – security, possession of land, educational guarantees and more.
For long, the Rohingya have been referred to as "Bengalis," a term denoting their perceived status as "illegal immigrants." Such a perception of Rohingya serves as a justification for their systematic disenfranchisement and for the population's animosity and lack of empathy for them. This has made the Rohingya the most prominent victims of Buddhist nationalism in Myanmar.
Persecution of the Rohingya community in the country is therefore not a recent phenomenon; neither is such persecution isolated to the junta regime. The persecution is rooted in Buddhist nationalism, which in recent years has gained increasing, extremist support among Buddhist Burmese, Myanmar's largest demographic group. "969 movement," the bulwark of modern Myanmar's Buddhist extremism, has been the main source of Islamophobia in the country. The movement's supporters however deny being anti-Muslim. One leader, Bhikkhu Wirathu, was quoted saying that they target only "Bengalis who are terrorizing ethnic Rakhine." In actuality, in 2013, there were reports of boycotts against Muslim businesses and in the city of Meiktila, central Myanmar. It is worth pointing out that victims of the 969 movement, or Buddhist nationalism in Myanmar in general, are not solely limited to Rohingya residing in Rakhine state, but include other Muslim minorities as well.
969 movement is not the only embodiment of Myanmar's new wave of Buddhist nationalism. The "Organization for the Protection of Race and Religion" (known in Myanmar under the Burmese acronym 'MaBaTha') is a group related but not identical to the 969. Boasting somewhat similar anti-Muslim rhetoric, MaBaTha is more formally organized and packs more political clout. The group was a strong force behind the proposal of and lobbying for the four contentious "protection of race and religion" bills, one of which was adopted in 2015.
For Suu Kyi, the rise of modern Buddhist nationalism makes voicing out against even extreme Buddhist nationalists a considerable political risk that could alienate a sizable constituency. Moreover, the situation is further complicated by policies of the previous administration. The four "protection of race and religion" laws in 2015 were signed by President Thein Sein, indicating that a significant portion of the government is sympathetic to the Buddhist movement. In fact, President Thein Sein was once quoted defending Wirathu's anti-Muslim sentiments. It is difficult to tell whether Suu Kyi is also supportive of the movement as she is not effusive about her own stance. However, politically it is explicable that she has tried to remain silent to avoid offending government officials she currently works with and especially the Buddhist nationalists.
The Military
Meanwhile, concerns over Suu Kyi's passivity have raised the issue of whether, and how much power she can wield within Myanmar's nascent democracy. The so called "defeat" in the general elections in 2015 when Suu Kyi was disbarred from running for president, was not a full-stop to the military's influence.
The Tatmadaw – Myanmar's defense forces – still holds 25 percent of the seats in the parliament, effectively giving the military veto power over any draft proposed by the NLD government. Tatmadaw's clout is especially apparent in its control over the heart of Myanmar's executive branch, the Ministry of Home Affairs, which controls the police force and, most importantly, the General Administration Department. As a corollary, the ruthless tactics unleashed on the Rohingya Muslims seems to be entirely of the military's initiation and control, where Suu Kyi is rather powerless and, allegedly, barely informed.
The military is not blind to the political and strategic importance of Buddhist nationalism. In fact, the current eminence of Buddhist nationalism can be traced back to the previous military regime efforts to stay in control. When facing opposition from Buddhist monks in the "Saffron Revolution" of 2007, Tatmadaw tried to seize on the existing ethnic fissure by supporting Buddhist nationalism with the hope of consolidating its support base amongst Buddhist monks. While the military ultimately failed to stay in power, its backing contributed to a rise in support for Buddhist nationalism among the populace.
As a tactic, vilifying Rohingya as illegal immigrants was an easy and useful tool for the military. It does not stop there however. Aside from leveraging the anti-Rohingya sentiment, the military also tried to insert its supporters and exert influence among the monastic community. This has been done through the State Sangha Maha Nayaka Committee – a government-appointed body of high-ranking Buddhist monks that oversees and regulates the Buddhist clergy. Their goal was to purge pro-democracy activists and Rohingya sympathizers from the monastic community. While being not so successful with the pro-democracy activists, the military was able to rid most of the monks sympathetic to the Rohingya plight from the Buddhist community. This has paved the way for even more vehement Islamophobia amongst Buddhist nationalists.
What has made the context even more intractable is the eventual appearance of the Arakan Rohingya Salvation Army (ARSA), who claims its objective is to "liberate Rohingya people from the dehumanizing oppression of all successive Burmese regimes." Yet, reaction against oppression alone does not completely explain the rise of this group. There are reports of their links to militant groups in Saudi Arabia and Pakistan.
The ARSA has reportedly engaged in skirmishes, causing casualties in the Rakhine Buddhist community. This has now been used as a convenient excuse for the ensuing, violent reprisals of combined military and police forces aimed at Rohingya militants. The military wasted no time in seizing the opportunity to start a propaganda warfare, labeling ARSA as terrorists and warning of the threat of Rohingya radicalization. This creates a bizarre situation in which the military, an institution loathed for most of modern Myanmar history, has mustered newfound support from the majority Buddhist populace.
The Inevitable Failure of Aung San Suu Kyi
Ultimately, the current "democracy" in Myanmar hinges on Suu Kyi's cooperation with the military. In turn, the military has been trying to blend itself with Buddhist nationalism to consolidate its power. Now that these two forces are partners in the subjugation of Rohingya, it would be an onerous task for Suu Kyi alone to stand up against these both, or propose a practical resolution that would deprive these two groups of their opportunity to grow and seize power; a speedy resolution does neither group a favor.
It is also unfair to say that Suu Kyi has done nothing. The creation of the "Central Committee for Implementation of Peace and Development in Rakhine State" was her attempt to "promote understanding and trust" between the Buddhist majority and Rohingya. Suu Kyi also created the "Advisory Commission on Rakhine State," headed by former United Nations Secretary General Kofi Annan. Predictably, these attempts at resolution turned into fiascos due to fierce opposition by Buddhist nationalists. As military commanders have gained an upper hand in the crisis, heated international criticism has been perhaps disproportionately rained on Suu Kyi who seems paralyzed in the situation.
It might be fair to blame Suu Kyi for her incompetence in handling the situation and gaining an upper hand, or, to a certain extent, her continued aloofness from these incidents. However, Myanmar is also a country that has not fully escaped from a legacy of junta dominance and its long history of violent ethnic clashes. Suu Kyi, as the "de facto leader" of Myanmar, cannot go against the powerful Buddhist nationalists, and even if she wanted to, she lacks the political power and legal power to have any meaningful impact. With her hand so tightly tied, it is realistically impossible to expect more from Aung San Suu Kyi without her committing political suicide, which just might make the situation worse for all of Myanmar.
Latest posts by Nhat Anh Nguyen
(see all)