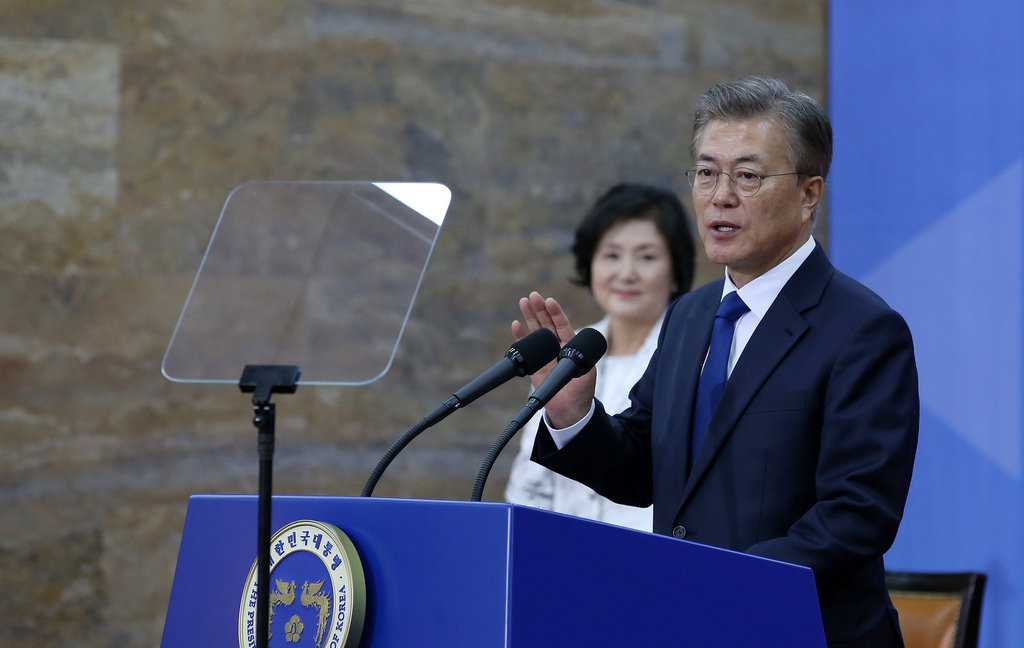 SEOUL-South Korean President Moon Jae-in has been adamant in his desire for peace on the Korean Peninsula. Besides dubbing the 2018 Winter Olympics in Pyeongchang the 'Peace Olympics,' he intends to convert the demilitarized zone (DMZ) separating the two Koreas, the most fortified border in the world, into a 'peace zone.' What he covets most, however, is a peace treaty formally ending the Korean War.
Although all parties involved have expressed a similar desire, the issue of a formal peace treaty has fallen victim to politics. The United States and North Korea have been quarreling over the scope and order of the Singapore declaration signed at their summit in June. North Korea insists on a peace regime to kick-start economic growth, and conversely, the U.S. sees it as an undeserved concession. This has left South Korea in peace treaty limbo between Washington and Pyongyang.
Building Blocks and Stumbling Blocks
Symbolically, a peace treaty would help bring emotional closure to the bloody civil conflict. As the war ended with only an armistice in 1953, the two Koreas remain military adversaries.
This adversarial status is a large obstacle in the path to inter-Korean economic and development projects pushed by President Moon. These potential ventures involve not only the two Koreas. Designs for integration throughout Northeast Asia, such as transport networks connecting the Korean Peninsula with the rest of Asia and beyond, are included as well. The projects are doomed to remain on the drawing boards, however, as nearly all forms of commerce with North Korea remain prohibited by a plethora of United Nations sanctions, part of the United States' "maximum pressure" campaign against North Korea's weapons program.
Technically, a peace treaty does not automatically mean sanction relief nor does it legally require the presence of all war belligerents, as Henri Féron explains on North Korea analysis website, 38North.com. So what is preventing the two Koreas from establishing their own formal treaty to end the war? Both the Panmunjom and Singapore declarations call for a peace regime, but the North Koreans have focused their grievances on the deal with the United States.
For its entire existence, North Korea has viewed the United States as the 'imperialist' puppet master controlling South Korea. It seeks legitimacy on the international stage through bypassing Seoul and receiving recognition from Washington. Indeed, it seems that during the peace treaty process North Korea has only reached out to the South  in order to pressure it.
Hurry Up and Wait
President Moon will visit North Korea from September 18-20 for the third inter-Korean summit of the year. South Korean officials stated that the two leaders will discuss, among other things, the "lasting peace" on the Korean Peninsula. In reality, President Moon is limited in what he can actually achieve  until Pyongyang and Washington break their current impasse. Going forward, South Korea's policies must be practical and accomplish two short-term goals: maintain relevance in multiparty negotiations, and command the trust of both the U.S. and North Korea.
Seoul is currently preparing to open an inter-Korean liaison office in Kaesong, a North Korean border down. Insisting that providing power to the facility is not in violation of sanctions, it has not sought formal permission from the UN to open the office. Seoul also deactivated ten guard posts along the DMZ. Along with connecting other severed lines of communication, South Korea is going through great lengths to avail itself to North Korea.
These measures are significant because they demonstrate that South Korea can act independently of the United States. If Seoul can continue to provide incentives to the North and help it garner positive media attention, it can both maintain relevancy and trust in the eyes of Pyongyang.
On the other hand, President Moon and his diplomats must also continue to publicly and privately reassure the United States that formally ending the war does not indicate an end to their military alliance. Against the backdrop of a rising China, many in the American foreign policy community see North Korea's (and China's) imminent desire for a peace treaty as a thinly veiled attempt to eliminate the need for American military presence on the Korean Peninsula. South Korean officials must convince the policymakers in Washington that peace regime negotiations are not connected with the status of the alliance. Additionally, Seoul must demonstrate that potential economic cooperation with North Korea is directly tied with concrete steps towards denuclearization.
Moon Jung-in, a special advisor to President Moon, said as much in a speech in Washington in late August. He also added that the U.S. and South Korea must cooperate in order to find a solution. A good place for the two to flesh out their respective strategies for North Korea is at the United Nations General Assembly later this month and South Korea's proposed 2+2 talks, which involve the US Secretaries of State and Defense and their South Korean counterparts.
Overall, South Korea can continue to faithfully execute its role as an indispensable intermediary by following the blueprint it used throughout 2017. Although it cosigned US-led sanctions on North Korea, Seoul never shut the door to dialogue with Pyongyang. Through consistent backchannel discussions, it helped facilitate the diplomatic breakthrough leading up to the Winter Olympics and eventually the summits. A similar breakthrough is needed again.
Time is of the Essence
Although the fate of the peace treaty is ultimately out of President Moon's hands, there is a sense of urgency in Seoul. The administration is under self-induced political pressure to make progress on a peace regime this year. This was seemingly a much more manageable task during the diplomatic euphoria this past spring, when Moon's approval ratings were over 80 percent. Now, they have dipped to the high 50s as South Korea's bleak long-term economic reality is setting in. A formal peace treaty with North Korea will not address these internal issues, but it will help swing political momentum back into the president's favor.
In the meantime, President Moon is resigned to the position of mediator. Unfortunately for him, as long as Pyongyang and Washington maintain their obstinate positions towards an end of war declaration and denuclearization, official peace will continue to elude the South Korean leader.
Latest posts by Nate Kerkhoff
(see all)