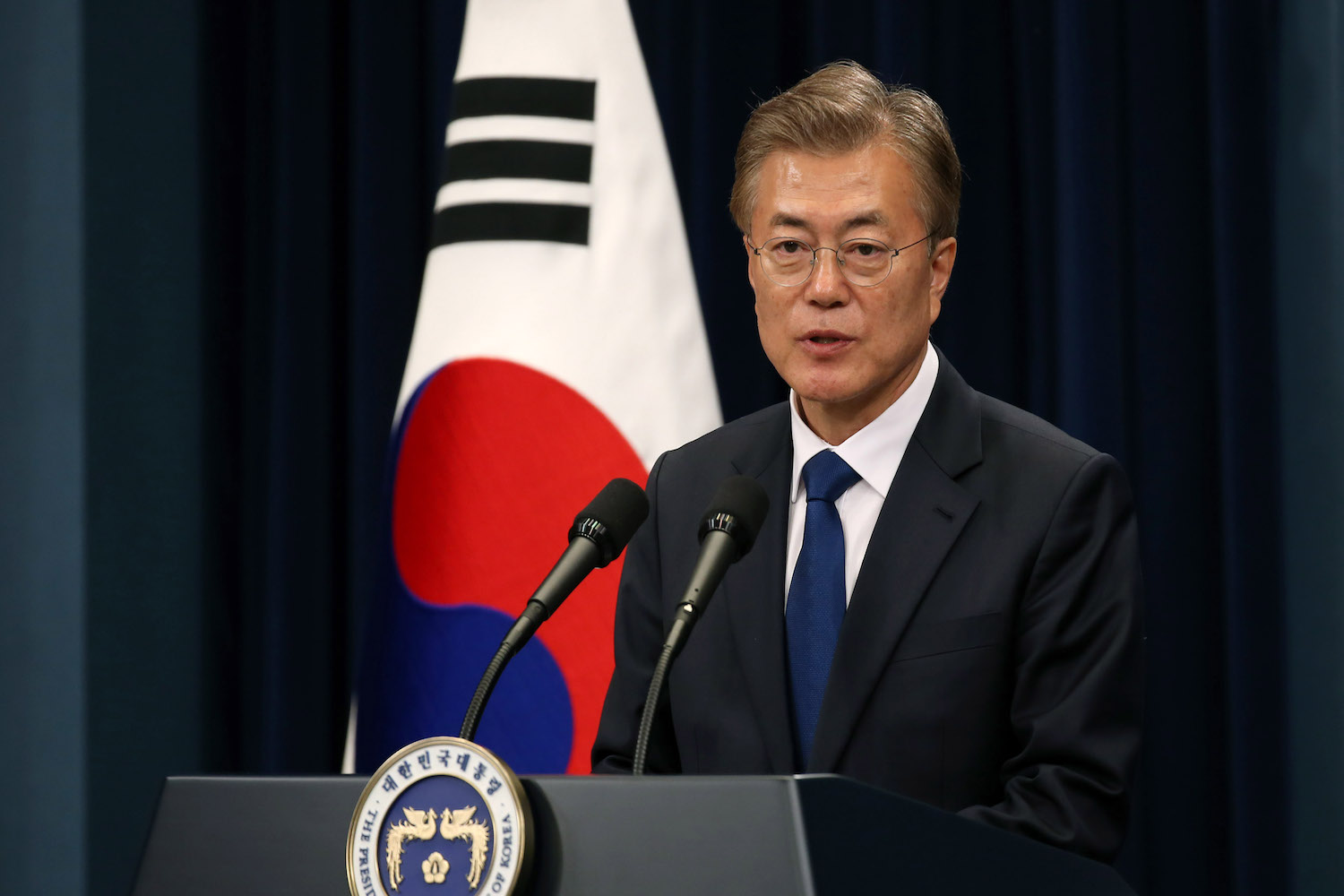 From March 22 to 24, President Moon Jae-in of South Korea made a three-day state visit to Vietnam. The most noticeable outcome of this trip was the signing of the Joint Declaration between the two heads of state, reaffirming the "Strategic Cooperative Partnership" status; ensuring further cooperation in trade, transportation and construction; and aiding in facilities construction in central Vietnam. President Moon also held a bilateral summit with the Vietnamese President Tran Dai Quang and meetings with three other heads of high-ranking Vietnamese government officials—Party Secretary Nguyen Phu Trong, Prime Minister Nguyen Xuan Phuc, Chairperson of the National Assembly of Vietnam Nguyen Thi Kim Ngan.
Presidents Moon and Tran ran through an exhaustive list of areas for further cooperation, notably, the target of 100 billion USD in trade volume by 2020. The visit flows naturally from President Moon's New Southern Policy, aimed at increasing economic ties with members of the Association of Southeast Asian Nations (ASEAN). Previously, during his November 2017 state visit to Indonesia, President Moon announced his plans to increase Korea-ASEAN trade volume to 200 billion USD by 2020. This implies that the South Korean government believes Vietnam to be a key partner in his New Southern Policy framework. However, with South Korea already being Vietnam's second largest source of foreign direct investment and official development aid partner, in addition to more Economic Development Cooperation Fund concessions and financial cooperation agreements to come, strong business ties already connect the two states. Despite the weight of the joint declaration, whether South Korea and Vietnam made any significant breakthrough in their relationship is unclear.
As much as the signing of the joint declaration contains issue areas for economic cooperation, it also has political implications. President Moon's "New Southern Policy" was motivated by the economic sanctions of China in response to South Korea's decision to deploy the US Terminal High Altitude Area Defense batteries. Seeking to solve South Korea's foreign policy dilemma, President Moon aims to diversify his security portfolio amidst the ever-exacerbating US-China power struggle.
However, the South Korean president may have made a mistake when he overtly proclaimed Vietnam to be the anchor state of his new foreign policy. The proclamation eroded Vietnam's strategic importance as a non-aligned state in President Moon's New Southern Policy. Vietnam has displayed signs of slowly leaning towards the United States due to the growing weariness of China with a series of territorial conflicts in the South China Sea. While the specifics are unknown, the Vietnam and South Korea have also agreed to announce a Joint Declaration on Joint Vision of Defense Cooperation, which means both countries are comfortable enough to cooperate in defense and security issues. Unless South Korea makes equal efforts to truly strengthen economic and eventually diplomatic and security ties with the rest of the ASEAN states, President Moon's visit may only reinforce the impression that South Korea is plotting against China.
While President Moon's trip to Vietnam is largely viewed as a success, it is too early to determine whether his New Southern Policy, which promotes 3P(cooperation on people, prosperity, and peace) principles, is off to a good start. President Moon's foreign policy is a seemingly practical approach to its Southeast Asian neighbors, yet cautious steps are required to ensure that individual policy decisions still fall in line  with the bigger landscape of the US-China power race. Only through being cautious of its implications can President Moon's Southeast Asian policy be truly practical and successful. The next wise step may be to deliberate the strategic interests of the rest of the ASEAN members vis-a-vis the regional power struggle and seek opportunities for protection of joint interests.  
Latest posts by Seongwon Song
(see all)