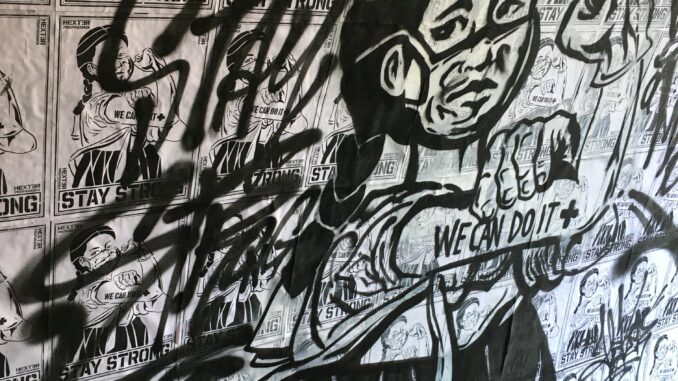 Though South Korea prides itself on avoiding full lockdown, many artistic venues have been forced to reduce activities in response to COVID-19. Theatres, galleries, and concert halls must abide by social distancing regulations or close their doors completely until the pandemic runs its course. As these bastions of human creativity suffer under restrictions and a floundering economy, artistic expression may seem stuck in limbo, if not at a complete standstill. However, a quick look around Seoul's local neighborhoods reveals a public gallery burgeoning with life.
Unencumbered by the rules to which official venues adhere, the street displays any work that secures a blank wall and sufficient secrecy. Artists have long favored this arena to express pertinent issues in politics, inequality, and identity to a wide audience. Such art's often taboo perspectives on these issues allow both creator and spectator to acknowledge emotions considered unsuitable for public discourse, such as fear, frustration, and anger. However, street artists ultimately wish to communicate with passersby, not just to express deviant perspectives. As such their works also convey positive messages like hope, gratitude, humor, and solidarity. The emotional connection street art provides has become all the more important since the pandemic shrank social circles, and the COVID-inspired pieces dominating streets around the world allow spectators to acknowledge the virus's impact on their own and on others' lives.
While museums must limit visitors, street art remains a dynamic field offering connection even during the most isolated time in recent history. In the following section, the author looks at how four street artists have used their COVID-inspired activities to reassure the Korean population the pandemic affects everyone, and no one must suffer alone.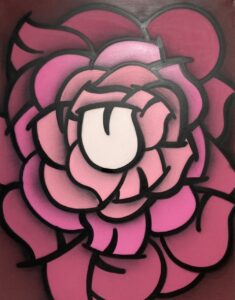 The Korea-based street artist, Mr. Tongue, held his third solo exhibition from November 26 to December 6, 2020. Titled "Self-Care,'' Mr. Tongue's selections encouraged visitors to release tensions from COVID-woes and discouraging news stories to recall their playful side. Like many street artists, Mr. Tongue often uses his work to highlight weighty topics like minority issues or politics. However, the familiar cartoon personalities that characterize his pieces, not to mention his signature tongue, argue fun and gravity can occupy the same space. For example, the mural, "We Are All the Same," features Marvin the Martian from Warner Bros.' Looney Tunes show in front of a tongue-filled background. The alien character raises a knowing eyebrow and wooden sign to remind onlookers that "Black Lives Matter" no matter what part of the universe one inhabits. In keeping with his theme of self-care, Mr. Tongue's canvas piece "Smell the Roses" beckons viewers lean into life's simple pleasures, but the work's pink tongue-petals give the comical impression those pleasures might give a sloppy lick to anyone who comes too close.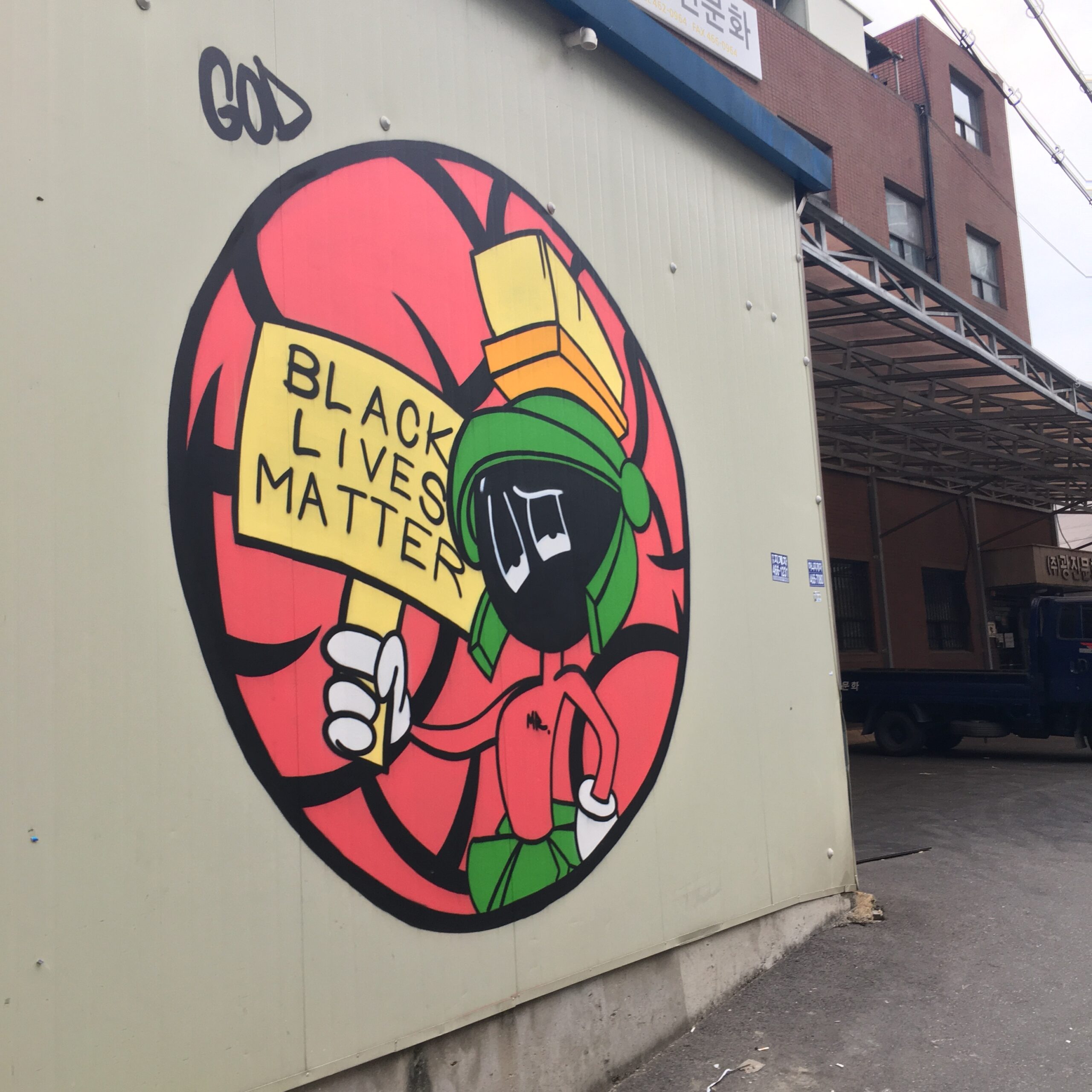 Mr. Tongue reminds viewers to reclaim their joy from COVID's clutches, but he's not the only street artist hoping to encourage a pandemic-fatigued Korean population. Mr. Tongue often collaborates with Doezny, an artist whose pieces point passersby to the "exit." This exit symbolizes freedom from whatever difficulty haunts the individual who sees the artist's work. Doezny's characters either raise their hands to guide observers to this exit or run through a doorway to a brighter side. They validate viewers who feel trapped by societal constructions of race and gender, the pressures of a constantly buzzing phone, parental expectation, or whatever else deceives individuals into thinking there's no way out. After COVID hit, Doezny's projects offered a new interpretation of the "exit," an escape from the terror and isolation caused by COVID. In one work Doezny painted two portraits of his perpetually running character, Ronald, with just enough space between them to write "2 METERS/ 6 FEET APART." The corresponding Instagram post reminds followers that while protecting loved ones from the virus requires physical isolation, "hearts need not stay apart." Another creation, a skeleton in a mask beneath the words, "Welcome to Fear Planet," acknowledges the terror the pandemic inspires. Both works allow viewers an "exit" from the belief they must emotionally experience the pandemic alone.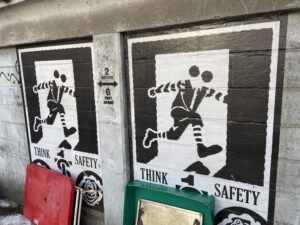 View this post on Instagram
Leodav, an artist famous for his colorful camo and depictions of Korea's historical figures, wished everyone a Merry "X-MASK" with a smiling "Santa Kim Gu." Leodav began painting the Christmas version of Korea's beloved independence fighter in 2014, arguing Kim's work to free the peninsula from Japanese rule was the biggest gift he could have given his descendants. In 2020, Leodav included a transparent mask over Kim's jovial, smiling face, which greeted fellow masked passersby on a condemned wall outside the Provisional Government Memorial Hall of Korea. The gift Kim's image inspired this season was one of solidarity. Kim Gu's legacy of love for his country extends through time to share the pandemic with Korea's current citizens, this time asking them to protect their home by staying at home, to wear a mask now so that next year friends and families can meet with no fear their presence puts loved ones at risk.
View this post on Instagram
In Sinchon's Ttokkigul (토끼굴) a tunnel designated by the Seodaemun district as a "legal-wall" for street art, a mural features masks with human facial features locked in a passionate kiss. The artist Binoo created this bittersweet reminder the body part where we concentrate so much affection must, for the time being, stay safely sealed away. In the same tunnel, the artist HEXTER covered a wall with posters of a young Korean girl in hanbok, the words "Stay strong," sprayed across the surface. Gloves on, mask secured, and arm muscles on display the image parodies J. Howard Miller's 1943 "We Can Do It!" propaganda poster. The original artwork featuring Rosie the Riveter encouraged women to enter a workforce vacated by men fighting in WWII. In contrast, HEXTER's piece asks almost the opposite—stay in, endure the boredom of home, brave the loneliness of isolation. We can do it.
(Another notable piece by HEXTER features the elegant and apropos phrase "F*ck COVID," alongside a masked Ma Dong-seok.)
View this post on Instagram
Even with closed or inaccessible galleries, art thrives. The healthy street art scene proves decreased physical interaction does not equal decreased emotional interaction. The virus has unfortunately, but also in a twisted way, fortunately, left few parts of society unscathed. Emotions shared by an entire community frustrated with restrictions, worried for friends and family, and suffering from isolation find fellowship through the art displayed on Korea's walls. Emergency alerts and news stories, even those emphasizing the hardship we all share, can't inspire the same sense of community as individuals who bypass laws and regulations to share a more personal interpretation of the same message.
Latest posts by Leslie Hickman
(see all)